Chitty Chitty Bang Bang Car Rental
A to Z Theatrical has been serving the theatrical community for over half a century. In addition to show props, we have over 15,000 theatrical costumes and accessories in stock every day. We build custom set pieces and have a over 25,000 square feet of props of every size and shape.
The Chitty Chitty Bang Bang car is 3/4 scale which is approximately 4 feet by 12 feet and has the following features:
Tri-swivel casters and four tie points make it easy to maneuver the car on stage.
The classic 'bang! bang!' effect is handled by air controlled blasts of baby powder that are controlled by a levers on the dash board of the vehicle.
Boat mode uses compressed air and is controlled by a dash board knob that causes the wheels to fold down flat. To enhance this effect, the rear passengers have the ability to toss over life preservers that are stored in and tethered to the car. (see photos)
Flight mode is controlled by the driver or front seat passenger via a lever. (see photos)
Lights are controlled by a switch on the dash board and by a hands free foot switch to simulate autonomous communication by the car.

Features the classic GENII license plate. (see photos)

Lots of period decorative details to enhance the cars appearance on stage.
Our vehicle rents for $1,000 per week with a two week minimum. If you need a longer term rental please call us for discounted pricing. We offer delivery or shipping for an additional price. The car is powered by air and contains a small air tank to allow it to run for each show. It needs to be filled from time to time. You can do this with a standard compressor. If you wish to rent the compressor from us, it is an additional $20 per week.
If you have any questions, please do not hesitate to contact us!
A to Z Theatrical Supply and Service
+1 816-523-1655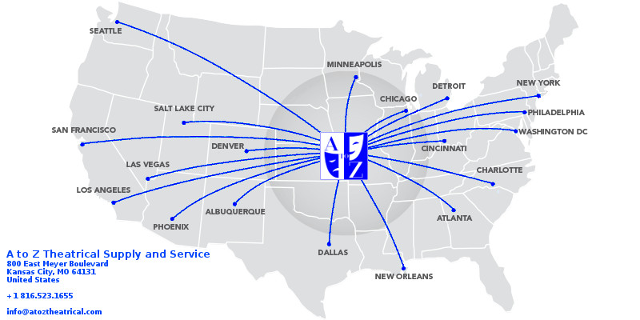 A to Z Theatrical Supply and Service, Inc.