Celebrating The Plays Of Kate Hamill
Celebrating The Plays Of Kate Hamill
Wall Street Journal's Playwright of the Year, 2017, Kate Hamill is a celebrated actor and playwright and was one of the top 20 most-produced playwrights in the United States.
Full Length, Drama
3 men, 6 women
Total Cast: 9, Flexible Set
Adapted from the novel by Louisa May Alcott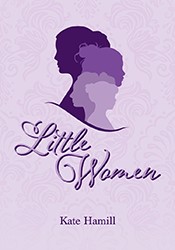 THE STORY: Jo March isn't your typical Victorian lady. She's indecorous and headstrong, and one day she's going to be a great American novelist. As she and her sisters grow up in the middle of the Civil War, they strive to be brave, intelligent, and imaginative young women. But as adulthood approaches, each sister must negotiate her private ambitions with society's expectations. In a war-torn world defined by gender, class, and personal tragedy, Jo March gives us her greatest story: that of the March sisters, four dreamers destined to be imperfect little women.
"Ms. Hamill's feminist-friendly spin on the classics never fail to sound an engagingly original note… an ingenious compassion of Alcott's novel that is by turns funny and painfully poignant…it touched me to the heart." —The Wall Street Journal.
 "…Jo has always been the most compelling character by far in Louisa May Alcott's coming-of-age novel Little Women. In reworking it for the stage, Kate Hamill…has done the dramatically sensible thing and placed Jo at the center…the silly, malaprop-prone Amy blossoms fully into her horridness, becoming an excellent foil for Jo…Meg, [as] a frazzled young mother, gets a gorgeous scene of near despair…with just the right comic touch." —The New York Times.
Full Length, Romantic Comedy
2 men, 3 women, 3 n/s (doubling)
Total Cast: 8, Flexible Set
Based on the novel by Jane Austen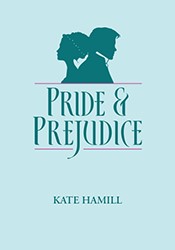 THE STORY: This isn't your grandmother's Austen! Bold, surprising, boisterous, and timely, this P&P for a new era explores the absurdities and thrills of finding your perfect (or imperfect) match in life. The outspoken Lizzy Bennet is determined to never marry, despite mounting pressure from society. But can she resist love, especially when that vaguely handsome, mildly amusing, and impossibly aggravating Mr. Darcy keeps popping up at every turn?! Literature's greatest tale of latent love has never felt so theatrical, or so full of life than it does in this effervescent adaptation. Because what turns us into greater fools…than the high-stakes game of love?
"Hamill…has a gift for condensing three-volume novels into galloping two-act plays. Her screwball PRIDE AND PREJUDICE…is as frolicsome as her earlier efforts. It hasn't met a rib it can't tickle." —NY Times.
"The ever-ingenious Hamill has given us something completely and delightfully different, a smallish-cast period-dress PRIDE AND PREJUDICE…adapted with fizzy, festive freedom, Hamill's [PRIDE AND PREJUDICE] is full of Bringing Up Baby-style slapstick and the kind of barely controlled chaos that you'd expect to see in a five-door Feydeau farce…" —Wall Street Journal.
Drama
Full Length
3-8 men, 4-9 women (doubling, flexible casting) (17 total)
Top of Form Based on the novel by Jane Austen
THE STORY: A playful new adaptation of Jane Austen's beloved novel follows the fortunes (and misfortunes) of the Dashwood sisters—sensible Elinor and hypersensitive Marianne—after their father's sudden death leaves them financially destitute and socially vulnerable. Set in gossipy late 18th-century England, with a fresh female voice, the play is full of humor, emotional depth, and bold theatricality. SENSE AND SENSIBILITY examines our reactions, both reasonable and ridiculous, to societal pressures. When reputation is everything, how do you follow your heart?
"…an unconditional delight…invigorating…a bouncy, jaunty take on Austen…remains remarkably true to the values and priorities of its source. The classic Austen preoccupations with real estate, income, class, reputation and equilibrium in life are all rendered brightly and legibly here." —NY Times.
"…so full of galloping comic vitality as to suggest a bunch of stupendously clever kids playing dress-up in the nursery. It's by far the smartest Jane Austen adaptation to come along since Amy Heckerling's Clueless, and at least as much fun." —Wall Street Journal. "Perhaps the greatest stage adaptation of this novel in history." —Huffington Post.
Drama
Full Length
5 men, 2 women (doubling, flexible casting) (7 total)
Top of Form based on the novel by William Makepeace Thackeray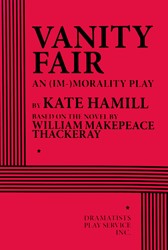 THE STORY: Becky is "bad." Amelia is "good." But in an unfair world, it isn't always that simple…Two women—one born into privilege, another straight from the streets—attempt to navigate a society that punishes them for every misstep. Clever Becky's not afraid to break the rules; soft-hearted Amelia's scared to bend them. Both strive for what they want—but neither can thrive without the other. Through Becky and Amelia's victories and losses, this thrilling, highly theatrical (im)morality play explores how flexible our morals can become when the wheel of fortune turns…Bold, wickedly funny, and shockingly relevant, VANITY FAIR demands that we face our own hypocrisy. After all…who are we to judge?
"[VANITY FAIR] is a gift to actors and a goody bag for its audience. …This play provides a rare thing—a female character who behaves just as badly as the male ones without being reformed or punished." —NY Times.
"…coruscatingly brilliant… Hamill's VANITY FAIR…[is] a masterpiece of creative compression that is at once arrestingly original and faithful to its source material… [it's] a dead-serious romp whose implicit feminism has been given a sharper point by Hamill…" —Wall Street Journal.