Helping you stay connected to your cast during the Covid-19 Pandemic
Helping you stay connected to your cast during the Covid-19 Pandemic
As the COVID-19 pandemic continues, our usual way of doing things has been uprooted with the new practices of quarantine and social distancing. Public spaces have either shut down or restricted contact, non-essential employees have moved to work remotely, and students everywhere are now taking their classes online.

Students, educators, and staff in the performing arts are particularly affected as we've lost the ability to have face-to-face contact - an ordinarily necessary requirement. Theatre folk are now navigating new avenues as schools and community organisations face the challenge of putting on a production while everyone is remote.

Amidst this time of uncertainty, theatre teachers and directors have become unsung heroes as they push to keep their students engaged. 

We're here to help you connect to your casts during this time, keep them uplifted and make sure the show goes on!

Here are some of the wonderful digital resources we have for you...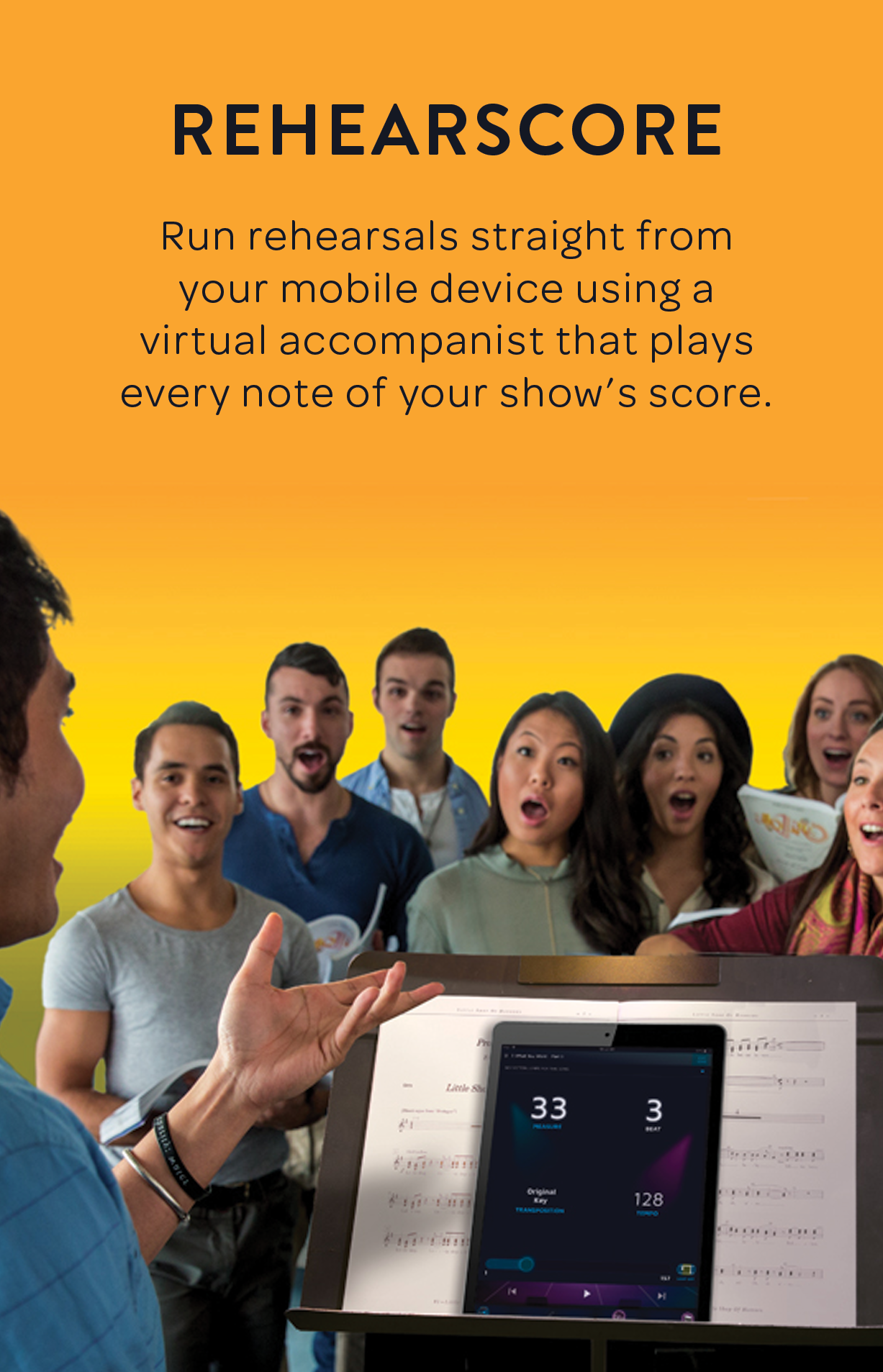 Help your performers learn the show's music and dance numbers remotely - it's almost like having them in your rehearsal room!
 
RehearScore App, now a mobile app, lets you run rehearsals straight from your mobile device with a virtual accompanist that plays every note of your show's score. Every musical number (including scene changes, dance music and underscoring) is recorded in its entirety!
Key Features:
Available for Apple & Android devices

Every cast member can have access to the RehearScore App.

Suited for individual practice or group practice sessions.

Dance or choral rehearsals can be conducted.

Find the right key as transpositions are easy.

Complete flexibility as you isolate, increase or remove any particular vocal line. Click and jump to any measure, add cuts and vamps and save your changes.
REHEARSCORE APP
Check show availability & further information​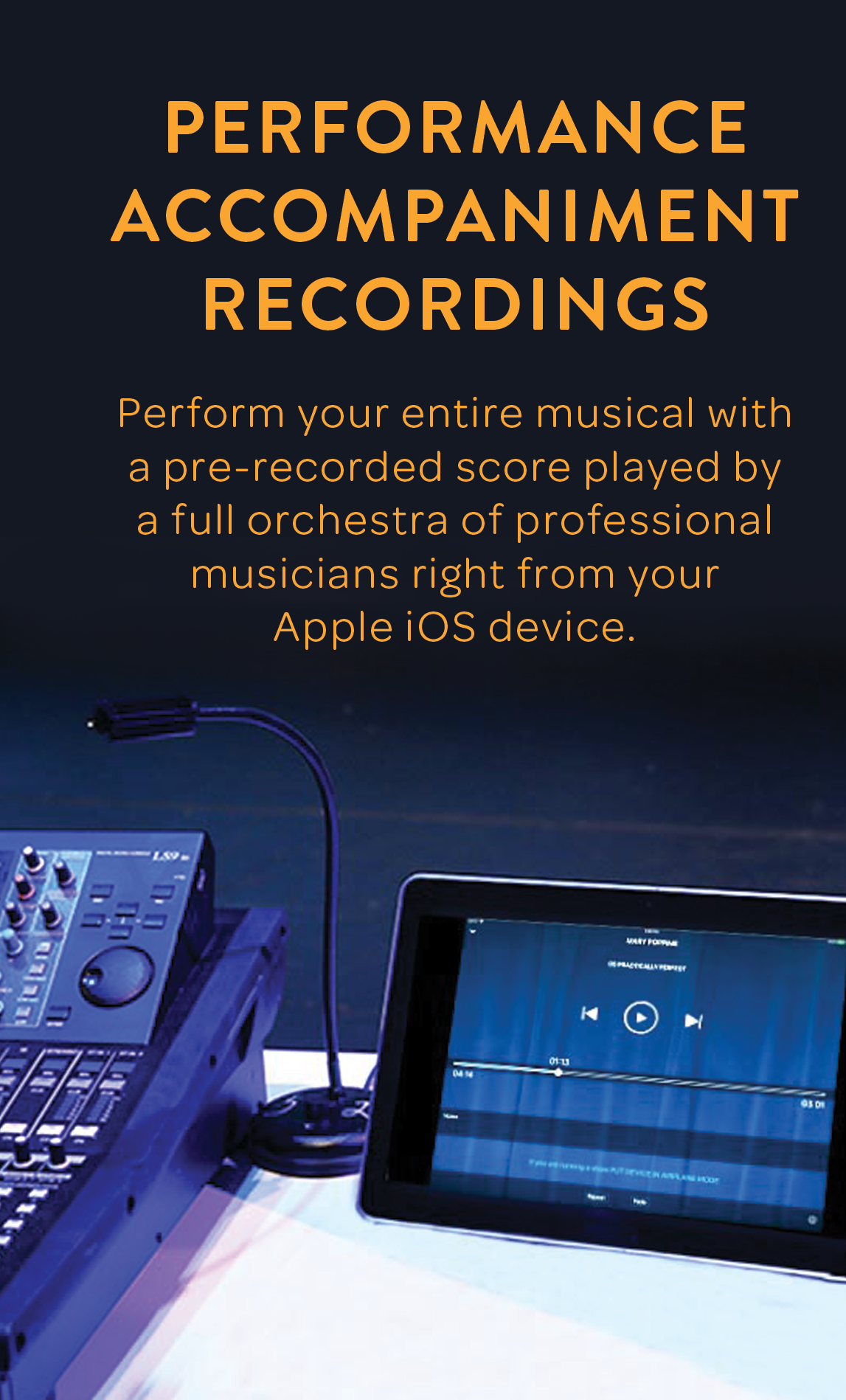 | | |
| --- | --- |
|   | Designed for organizations that don't have access to a live pit orchestra, MTI's Performance Accompaniment Recordings provide instrumental tracks for rehearsals and performances that match your show's score note-for-note. |
Key Features:
Available for Apple iOS devices (iPad or iPhone)

Rehearsal Tracks - Rehearse your entire show with the rehearsal tracks that can be distributed to cast and crew. 

Outstanding Quality - Each Performance Accompaniment Recording was created by credentialed industry professionals and tested by thousands of organizations.
Edits for Your Production - MTI can customize the tracks to your specific needs by changing the tempo up to 40%, cutting or duplicating measures and changing keys up or down a major third.

Cue Sheet - An easy-to-follow guide highlighting the major cues throughout the show.
PERFORMANCE ACCOMPANIMENT RECORDINGS
Check show availability & further information​
If you have any queries at all, please contact us on enquiries@mtishows.com.au
* Our use of the main photo is by generous permission of Nick Hedger, Ben Nicholson and select students for Patrick Studios Australia.  Thank you.