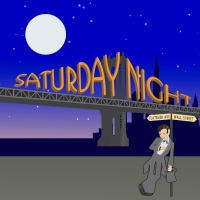 A status-obsessed Brooklynite ultimately learns the incredible value of love in this little-known Sondheim gem.
Full Synopsis
Act One
It is seven o'clock on a Saturday night in the early Spring of 1929. A group of friends has gathered on Gene Gorman's front porch in Flatbush, Brooklyn. Dino sits at the piano and plays ragtime music. Artie, who is slightly older, sits on the sofa and strums a ukulele while Ray reads a newspaper. We find Ted on the phone, attempting to set up a date with a girl – who eventually turns him down – while the rest of the guys lament their lack of female company on a Saturday night ("Saturday Night"). A young guy named Bobby shows up and announces that he wants to be alone in the house with his married lady friend. Gene's mother is gone, and his father is on the road. Because Bobby is a runner on Wall Street, Dino asks his opinion about the stock for Montana Chem. Gene is an order clerk with a brokerage house, and the gang is going to pool their money to buy a thousand shares on margin. As he goes inside of the house, Bobby tells them to spend their money on women and to leave quickly, because his woman is coming.
Hank and Celeste, a married couple who are a few years older than the rest of the gang, show up. When asked about their plans, they announce that they are going to the movies at the Midwood. Ray says that the gang will go with them. Celeste, thinking that five guys and one woman would look bad, suggests inviting her friend, Mildred, to come along. Although hesitant, they all eventually agree. While Celeste calls Mildred, Hank secretly adds his money to the Montana Chem pool. Celeste returns and says that Mildred will come on the condition that someone must pick her up. Ray leaves to get her. Gene, who is now dressed in a tuxedo and tails, appears. He has decided to let Bobby have the house for the evening and tells him that he'll call from the corner drugstore before he comes home. The group is impressed with Gene's elegant clothes. Gene sees his clothes as a ticket to the beautiful world of Park Avenue ("Class"). The gang of friends tries to pull Gene out of his fantasy, but Gene is determined to crash a high-class party at the Plaza Hotel. Celeste volunteers to press Gene's silk scarf and goes inside. The gang gives Hank's money to Gene for a cab, and Hank reminds everyone not to tell Celeste. Bobby expresses his uncertainty about Gene's stock tip, but Gene reassures them that by Saturday, they could all have a profit of $10,000. The group again agrees to invest in Montana Chem as Gene goes back into the house.
Pinhead, Gene's cousin, shows up with his car, a Pierce-Arrow. The Gang does not like Pinhead, and he does not particularly like that they call him Pinhead (his real name is Eugene Gorman). He has to go down to Miami to visit his wife and he asks Gene to store the car in his garage while Pinhead is gone. Meanwhile, as the group prepares to leave, Ray returns with Mildred ("Delighted I'm Sure"). Gene and Pinhead depart in his car as the others leave for the movies.
At the Plaza Hotel, we find Gene attempting to enter an exclusive party. A door attendant stops Gene at the door, because he does not have a ticket. Gene tries various excuses, but the attendant does not let him in. The attendant also stops Helene, a beautiful young woman who does not have a ticket. She begins to cry, so Gene loans her his handkerchief. Helene, a young southern belle, informs Gene that she just had a fight with her fiancé. Gene replies that his date developed a terrible headache, and he had to drive her home in his Pierce. He finishes by introducing himself as "Gene Goulding Gorman, the Third." Helene introduces herself as "Helene Calhoun Forrester." When neither can think of anything else to say, they begin to dance together in the hallway ("Isn't It). Gene eventually suggests that they go for a drive in the Pierce.
Outside of the movie house, the gang complains about the cost of cabs, hat checks and gum. Celeste and Mildred remain inside the lobby, reflecting on their own dreams ("In the Movies").
Back at Gene's house, Bobby is relaxing on the sofa when Gene calls him from the drugstore. He is alone but pretends that his lady is there. As he finishes rumpling the cushions on the sofa, the group returns from the movies. Mildred and Celeste are still hungry, so they head into the kitchen to make sandwiches. The gang is impressed with what they think Bobby did in their absence. Ray, meanwhile, tries to get money from the others to pay for the evening. Gene returns. Celeste orders everyone in the house to help with the sandwiches and then proceeds to grill Gene on his evening. Excited, Gene tells Celeste that he met a member of an old Southern family but will probably never see her again. Celeste volunteers to set him up with her sister, Clara.
The gang comes back out onto the porch as the phone rings; it's a girl, calling for Gene. She will not give him her name but she wants to come over to his house for a few minutes. Intrigued, Gene agrees to meet her and goes upstairs to change into something a little more comfortable. In the meantime, Bobby explains to the Gang how he seduces girls ("Exhibit A"). Afterwards, Gene returns in a silk lounging robe and sends everyone away. The mysterious girl turns out to be Helene, whose real name is Helen Fogel. She was able to find Gene because he accidentally left his driver's license with her. The real Helen lives in Brooklyn and her father is in the wholesale chicken business. Gene also admits that he lied about his middle name and alma mater... but he is playing the stock market, so he should have a couple of thousand dollars by the end of the week.
Gene puts on a record; he and Helen sing along with it and dance together ("A Moment with You"). As they move together to kiss, the record hits a crack and scratches. Helen and Gene break apart and realize that the gang of friends is watching them. Gene tells her that they must see him make out or he loses face. For the gang, Gene and Helen kiss in front of a light and then turn it off. Gene helps Helen slip quietly out the back door. On the street, Dino, Ray, Ted and Bobby see Gene making out with Helen and lament their lack of female companionship ("Saturday Night – Reprise 1").
The next day, at a luxury apartment on Sutton Place, Mr. Fletcher, a rental agent, shows Gene and Helen the den. Gene pretends to be interested in renting the apartment, and when Fletcher departs to grab the wine closet keys, Gene's friends storm the room with curiosity; they came along for the ride. After the group scrambles off, Helen and Gene look out at the view, admiring the dream of gracious living. Suddenly, Helen lashes out and criticizes Gene for not growing up. The friends enter, squelching any possibility of the impending fight. When Mr. Fletcher returns, he notifies Gene that their viewing time is up. In a stunning surprise of events, he decides to sign a lease for the expensive apartment. Helen, mortified at this spontaneous decision, reminds him that the money for the apartment's down payment is needed to buy the Montana Chem Corp stock. Gene declares that he will borrow the money that he needs.
During the next week, Gene's stock scheme starts collapsing ("Montana Chem"). He is in need of cash and on the next Saturday night, he rashly sells his absent cousin's car. Helen hates what he's done but admits to him that she loves him ("So Many People"). The couple announces their engagement to Gene's friends, all of whom – with the exception of Bobby – happily anticipates their wedding ("One Wonderful Day"). As the group is celebrating, Gene's cousin, Eugene, unexpectedly returns from Florida. He can't seem to find his car; when Gene lies and tells his cousin that it was stolen, Eugene calls the police!
Act Two
A week later on a Saturday night, everyone is back on the front porch in Brooklyn. The old gang is together, wondering yet again what to do ("Saturday Night – Reprise"). Gene, however, has a lot to do on this Saturday night – he's busy being hounded by police detectives. Unluckily for Gene's cousin – the other "Eugene Gorman" – he's mistaken for the Gene Gorman who went off with his friends' money, is involved with a shady stock deal and sold his cousin's car. The police detectives mistakenly take him down to the station.
Elsewhere, Gene's two married friends, Hank and Celeste, wonder how Gene will get himself out of this mess while they reminisce about their first date ("I Remember That"). Later that same evening, Gene and Helen go to Dakota Doran's club for a night on the town together; they try to sit back and enjoy the music ("Love's a Bond-Nightclub Blues"). However, the pressure of what's going on makes that impossible, and all that they do is argue. Gene tries to shoot himself with the gun that Helen is carrying, not knowing that it's only a water pistol. Helen tells him that no matter what he does, she will always love him ("All for You"). Gene doesn't feel happy or relieved, only afraid that he's become a laughing stock. He runs off, threatening to commit suicide.
Back at the police station, Gene's friends have gathered together and pooled their savings to help get Eugene out of jail ("That Kind of a Neighborhood"). When Helen tells them what Gene has threatened to do, his friends enlist the help of the police, who are just a little bit confused about there being two Eugene Gormans. Soon, Gene arrives... finally ready to turn himself in. By coincidence, the real estate broker for the Sutton Place apartment arrives, too! It seems that the prior tenants desperately want to keep the apartment, so Gene's deposit money will be returned to him. Gene's friends negotiate a deal with the broker: for his inconvenience, Gene will be paid double the amount he put down, which would give him enough to buy back his cousin's car. However, Gene discovers that the real estate agent's arrival was not just a coincidence; Helen had arranged for him to be there and had settled the money matter earlier. This was all a test for Gene. All he needed to do was show up at the jail and try to do the decent thing on his own! Now, more grown up, and even more in love with Helen, Gene decides to leave Wall Street for good and take a job at Helen's father's chicken plucking business.
Helen admits that she's perfectly happy with her life in Brooklyn with Gene ("What More Do I Need?"). Gene prepares to replace his cousin in jail, but the police refuse to dampen his joy; they let him go until Monday morning, when he will be able to pay the money back. As Saturday night ends, everyone looks forward to what tomorrow will bring.
Show History
Inspiration
Saturday Night is based on the play, Front Porch in Flatbush, which was written by twin brothers, Julius J. and Philip G. Epstein, about their third brother and his friends in 1929 Brooklyn, just before the stock market crash.
Lemuel Ayers (who had produced Kiss Me, Kate and Out of This World) acquired the rights to the play, which he planned to turn into a musical. After hearing some songs by a young Stephen Sondheim, Ayers was impressed and brought Sondheim onto the project to write songs.
Productions

Saturday Night was scheduled to open in the 1954-1955 Broadway season; it was expected to be Stephen Sondheim's Broadway debut. However, in August of 1955, lead producer Lemuel Ayers died. The production was scrapped, and the musical material shelved.
In 1959, Jule Styne (Sondheim's collaborator for Gypsy) wanted to produce Saturday Night with Bob Fosse directing. However, Sondheim, feeling that he had moved on from the show artistically, did not want the production.
Nearly 36 years later, in 1995, London's the Bridewell Theatre hosted a "reading" of material from Saturday Night by the Stephen Sondheim Society and Stephen Banfield. They then approached Sondheim about doing a production, which came to fruition in December 1997 with the premiere of Saturday Night. The production was directed by Carol Metcalfe and Clive Paget. The orchestrations were by Peter Corrigan, who worked from the piano-vocal score, and the score was performed by a five-piece orchestra under the supervision of Mark Warman. The show ran through January 1998.
The U.S. premiere was presented by the Pegasus Players at the O'Rourke Center for the Performing Arts in Chicago and opened in May 1999. It was directed by Gary Griffin. The orchestrations were by Jonathan Tunick, and the incidental music was by Sean Patrick Flahaven. The production had an extended run through July 1999. 

The New York premiere was Off-Broadway at the Second Stage Theatre, beginning previews in January 2000 and opening on Valentine's Day. It was directed and choreographed by Kathleen Marshall. The musical director was Rob Fisher.
Saturday Night opened in Melbourne, Australia, in 2003, followed by a March 2009 UK revival in London that featured the revised Off-Broadway score. The Signature Theatre in Arlington, Virginia, presented a concert staging of the piece in October 2011.
Cultural Influence
Although Saturday Night went unproduced for more than forty years, several songs from the show have been recorded. A partial list includes: "What More Do I Need," "Isn't It" and "Saturday Night," recorded on A Stephen Sondheim Evening; "Love's a Bond," "All for You" and "In the Movies," on Varese Sarabande's Unsung Sondheim; and "So Many People" and "A Moment with You," included on the cast album for the Off-Broadway revue, Marry Me a Little.
A cast recording of the Bridewell Theatre production was made and distributed by First Night (UK) and RCA Victor (US).
Nonesuch Records released a new recording of the New York Second Stage cast on June 20, 2000.
Trivia
In 1953 and 1954, backers' auditions were held for Saturday Night, and the show was capitalized for $250,000.
Stephen Sondheim's work on Saturday Night led to his involvement with West Side Story. Arthur Laurents, the bookwriter, liked Sondheim's lyrics for Saturday Night and introduced him to composer Leonard Bernstein. After hearing his work, Bernstein agreed that Sondheim should become the lyricist for West Side Story.
Sondheim edited the book and wrote two new song/scenes ("Delighted I'm Sure" and "Montana Chem") for the Pegasus Players production in Chicago.
The Bridewell Theatre, where Saturday Night premiered, is a 133-seat space that used to be a swimming pool.
Critical Reaction
"It has a charm, freshness and wit... [that] deserves to draw more than dedicated Sondheimites."
– The Guardian


"A perfectly enjoyable evening.... Saturday Night is something special."
– Time Out


"Saturday Night has the unmistakable stamp of shrewd imagination and originality. And for fans of Mr. Sondheim, it packs something extra: the heart-stopping sensation of a curtain going up on genius!"
– The New York Times
Drama Desk Award
2000
-
Outstanding Musical,
Nominee
(Saturday Night)
2000
-
Outstanding Featured Actor in a Musical,
Nominee
(Christopher Fitzgerald)
2000
-
Outstanding Music,
Nominee
(Stephen Sondheim)
2000
-
Outstanding Lyrics,
Winner
(Stephen Sondheim)
Connect
Billing
Book by

Music and Lyrics by
Based on the play, Front Porch in Flatbush by Julius J. Epstein and Philip G. Epstein
Requirements
You must give the authors/creators billing credits, as specified in the Licence Agreement, in a conspicuous manner on the first page of credits in all programs and on house-boards, displays and in all other advertising announcements of any kind. You agree to supply to the Licensor full details of all such material for Licensor's approval prior to printing and distribution and supply two (2) copies of the program after printing.
Percentages listed indicate required type size in relation to title size.
SATURDAY NIGHT
| | |
| --- | --- |
| Book by | Music & Lyrics by |
| JULIUS J. EPSTEIN | STEPHEN SONDHEIM |
Based on the Play "Front Porch In Flatbush" 
By Julius J. Epstein and Philip G. Epstein
**The authors are to receive billing credit in all forms of publicity and advertising under the control of the Producer where and whenver the title of the Play appears. The names of the Composer/Lyricist and Bookwriter shall be equal in size, type, coloring, boldness and prominence. No billing shall appear in type larger or more prominent than the billing to the Authors except for the title of the Play. In addition, only stars billed above the title of the Play may receive billing as large or prominent as the Authors. No more than two stars shall be billed above the title of the Play. No billing box may be used. No person (including, without limitation, the Producer) shall be accorded possessory credit (i.e., "Director's Production Of" or "Producer's Production Of") with the title of the Play.
**See attached Rider for Additional Billing Requirements**
In instances where Jonathan Tunick's orchestrations are to be used in connection with a license, you agree to bill the orchestrator in all programs for the Play and whenever the name of the musical director or conductor appears in substantially the following form:
Orchestrations by JONATHAN TUNICK
Such credit will appear in first position on the right if any other individual's credit appears on the same line.
The videotaping or other video or audio recording of this production is strictly prohibited
Included Materials
| Item | Quantity Included |
| --- | --- |
| LIBRETTO/VOCAL BOOK | 25 |
| PIANO CONDUCTOR'S SCORE | 2 |
| STUDY GUIDE | 1 |
Production Resources
Resource
HOW DOES THE SHOW GO ON-10/CS
HOW DOES THE SHOW GO ON?
KEYBOARDTEK
LOGO PACK
LOGO PACK DIGITAL
REFERENCE RECORDING
TRANSPOSITIONS-ON-DEMAND
STANDARD ORCHESTRATION
| Instrumentation | Doubling |
| --- | --- |
| BASS | |
| CELLO | |
| DRUMS | |
| KEYBOARD 2 | |
| REED 1 | ALTO SAXOPHONE , CLARINET , FLUTE , PICCOLO |
| REED 2 | CLARINET , ENGLISH HORN , OBOE , TENOR SAXOPHONE |
| REED 3 | Bb CLARINET , BARITONE SAXOPHONE , BASS CLARINET , BASSOON |
| TROMBONE | |
| TRUMPET | |
| VIOLA | |
| VIOLIN | |