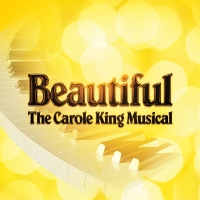 Beautiful: The Carole King Musical
The inspiring true story of Carole King's remarkable journey from teenage songwriter to the Rock & Roll Hall of Fame.
Full Synopsis
Act One
At Carnegie Hall in 1971, Carole sings "So Far Away". Then we go to Brooklyn where 16 year-old Carole tells her mother, Genie, she is going into Manhattan to try and sell a song to Donnie Kirshner. In the long tradition of mothers, Genie is opposed to her daughter's wish and in the equally long tradition of teenagers not caring about their mother's opposition, Carole goes anyway.
At 1650 Broadway, she hears the "1650 Broadway Medley". She then sings her new song "It Might As Well Rain Until September". Donnie says he will take it and hopes she has others.
At Queen's College, Carole meets a handsome young lyricist named Gerry Goffin. They agree to collaborate, musically and romantically, which in both cases turns out to be a fertile arrangement. When they go to Donnie's to play their new song, Carole confesses to Gerry that she is pregnant. Gerry asks her to marry him. It gives her an extra depth of feeling when she sings their new song for Donnie, "Some Kind of Wonderful", which the Drifters then record.
They get an office at 1650. While there, Carole meets a new lyricist Cynthia Weil ("Happy Days Are Here Again) who is looking for a composer to work with. Gerry and Carole sing their new song "Take Good Care of My Baby", during which Barry Mann, the composer with the office next door, enters. Barry meets Cynthia and they decide to collaborate. As they begin to work, sparks fly.
Donnie tells them he needs a song for the Shirelles. The couples compete for the job. In Donnie's office the next morning, Carole and Gerry present "Will You Love Me Tomorrow". Cynthia and Barry perform "He's Sure The Boy I Love". Donnie picks Carole and Gerry's song for the Shirelles and it goes to Number One.
And so, on either side of the same wall, a competition is born. The two teams turn out an amazing parade of songs: "Up On The Roof", "On Broadway", "The Locomotion" and "You've Lost That Lovin' Feeling".
Gerry and Carole are at the taping of a TV special where their new song "One Fine Day" is being performed by the dazzling Janelle Woods. During a break, Gerry confesses to Carole that he is restless in their marriage. He wants to sleep with Janelle, and he doesn't want to lie about it. Carole is stunned. As the song begins again, she takes it over and sings it herself.
Act Two
Carole is in a recording studio doing a demo of "Chains". Gerry is off with Janelle but tells her he will meet her later. Nick, a guitarist, asks Carole to come sing at the Bitter End sometime but she declines-she's a songwriter, not a singer.
The thing with Gerry is getting her down so she goes and talks to Cynthia who is also having trouble with Barry-they split up. Carole decides to tell Gerry he has to end the affair with Janelle. As she leaves Barry comes in. He and Cynthia make up and play their new song, "Walking In The Rain".
Gerry shows up but he is not making sense. He eventually has a breakdown. At the hospital, he tells Carole he will end the affair with Janelle and that he wants to come home. She suggests they make a new start and move to the suburbs. With that, we hear "Pleasant Valley Sunday".
Barry, Cynthia and Donnie come to see the new house. Barry plays their new song, "We Gotta Get Out of This Place". Depressed that he and Carole can't do as well, Gerry leaves in a funk for the city. While he is gone, it comes out that Barry and Cynthia have seen him with another woman, a singer named Marilyn Wald. Carole goes to Marilyn's apartment and Gerry is there. It's the final straw. She ends their marriage.
At the Bitter End, where Barry and Cynthia hear their song UPTOWN, Carole explains she went to LA for a vacation and has started writing on her own. Nick, the guitarist from the studio who asked her to sing with his group, is playing there and urges her to sing. She sings her new song, "It's Too Late".
She decides to move to L.A. At 1650, she says goodbye to Donnie and Barry and Cynthia and plays them a parting present, "You've Got A Friend".
In LA, she records her album, Tapestry. The session goes well until the last song, which she is afraid to sing. It's a song she wrote with Gerry and she is afraid of the feelings it may stir up. Her producer, Lou Adler, persuades her. She sings "(You Make Me Feel Like) A Natural Woman".
The album is a smash. Carole is at Carnegie Hall for a concert. Before the show starts, there is a knock at her dressing room door. It's Gerry. He has brought her a good luck present but has something even more valuable: an apology for all the ways he hurt her. With a full heart he wishes her well.
Carole comes onto the stage of Carnegie Hall alone. She sits at the piano. Then with all the joy inside her, she sings "Beautiful".
And that's the end, except at the end of the curtain call, when the cast and audience sing "I Feel The Earth Move".
Billing
Words and Music by

Book by
Requirements
You must give the authors/creators billing credits, as specified in the Licence Agreement, in a conspicuous manner on the first page of credits in all programs and on house-boards, displays and in all other advertising announcements of any kind. You agree to supply to the Licensor full details of all such material for Licensor's approval prior to printing and distribution and supply two (2) copies of the program after printing.
Percentages listed indicate required type size in relation to title size.
The Licensee agrees to bill the Play and the Authors in all programs (on the title page), houseboards, displays and in all advertising and all paid publicity, in the following manner:
BEAUTIFUL
The Carole King Musical
Book by
Douglas McGrath
Words and Music by
| | |
| --- | --- |
| Gerry Goffin & Carole King | Barry Mann & Cynthia Weil |
Music by Arrangement with
Sony/ATV Music Publishing
Orchestrations, Vocal and Incidental Music Arrangements
Steve Sidwell
MTI will contractually require its licensees to include the following credits on the title page of all programs for the Play:
Originally Produced on Broadway by
| | | |
| --- | --- | --- |
| Paul Blake | Sony/ATV Music Publishing | Mike Bosner |
In advertisements of 1/4 page size or less, where only the title of the Play, performance dates and venue are provided and in taxi ads where no other party is billed, the following "shortened billing" is permissible:
BEAUTIFUL
The Carole King Musical
In addition, the licensee agrees to include the authors' approved biographies wherever biographies of any other creative team members appear, including programs and websites.
Douglas McGrath (Book) is a filmmaker and playwright. Most recently, he directed the HBO documentary "Becoming Mike Nichols." He collaborated with Woody Allen on the screenplay for Bullets Over Broadway, for which they were nominated for an Academy Award. He wrote and directed the Oscar-winning Emma from the Jane Austen novel; Company Man; Charles Dickens's Nicholas Nickleby, which won the Best Ensemble Cast from the National Board of Review; Infamous; and the HBO documentary, "His Way," nominated for an Emmy for Outstanding Nonfiction Special. His play Checkers opened the 30th anniversary season of New York's acclaimed Vineyard Theatre. His book for Beautiful: The Carole King Musical was nominated for Tony, Drama Desk and Outer Critics Circle awards. He began his creer as a writer for "Saturday Night Live" in what was incontestably the worst year in the show's history. He has written essays on the arts and politics for the New Republic, the New Yorker, The Nation, The New York Times and Vanity Fair.
Gerry Goffin (Words and Music). Born in Brooklyn in 1939, Gerry Goffin met Carole King at Queens College, and their musical collaboration began almost immediately. They married in 1959, and that same year wrote their first hit song "Will You Love Me Tomorrow?" (The Shirelles). The duo penned more than 50 Top-40 hits including "The Locomotion," "Natural Woman" and "Up on the Roof." In 1987, Goffin and King were inducted into the Songwriters Hall of Fame, and the Rock and Roll Hall of Fame in 1990. Goffin has left an indelible mark on American music.
Carole King (Words and Music). Pop music would be very different without the contributions of Carole King, who at age 17 wrote her first #1 hit with Gerry Goffin, "Will You Love Me Tomorrow," for the Shirelles. The dozens of chart hits Goffin and King wrote during this period became legendary, but it was 1971's Tapestry that took King to the pinnacle, speaking personally to her contemporaries and providing a spiritual musical backdrop to the decade. More than 400 of her compositions have been recorded by over 1,000 artists, resulting in 100 hit singles and six Grammys.
BARRY MANN (Words and Music) has written the melodies of some of the most influential pop songs in musical history. In addition to "You've Lost That Lovin' Feeling," the most-played song of the last century, and the songs heard in Beautiful, he composed later standards like "Somewhere Out There" (winner of two Grammys), "Here You Come Again," "Sometimes When We Touch," "Just Once" and "Don't Know Much." Together he and Cynthia Weil have amassed an incredible 112 pop, country, and R&B awards from Broadcast Music Inc. for significant radio air play. He has been inducted into both the Songwriters Hall of Fame and the Rock and Roll Hall of Fame.
CYNTHIA WEIL (Words and Music) is known as the lyricist of classic songs such as "You've Lost That Lovin' Feeling," the most-played song of the 20th century. In addition to the songs heard in Beautiful, she set the words to later standards including "Somewhere Out There," "Here You Come Again," "He's So Shy," "Just Once" and "Don't Know Much," to name just a few. Weil has been inducted into the Songwriters Hall of Fame, the Rock and Roll Hall of Fame, honored with multiple Grammy nominations and two Grammy awards for "Somewhere Out There" as the Motion Pictures Song of the Year and Song of the Year.
SONY/ATV MUSIC PUBLISHING Sony/ATV Music Publishing, established in 1995 as a joint venture between Sony and Michael Jackson, is the world's leading music publisher. Sony/ATV owns or administers more than two million copyrights, including those from such iconic music catalogs as EMI Music Publishing, Leiber & Stoller, Mijac Music, Motown and Famous Music. Sony/ATV controls many of the best-known songs ever written, including "New York, New York," "All You Need Is Love," "You've Got a Friend," "Ain't No Mountain High Enough," "Over the Rainbow" and "Stand By Me." In addition, Sony/ATV represents the copyrights of such legendary artists as The Beatles, Leonard Cohen, Neil Diamond, Bob Dylan, Michael Jackson, Carole King, Joni Mitchell, Queen, The Rolling Stones, Sting, The Supremes, Hank Williams and Stevie Wonder, among others. Its ever-growing list of chart-topping artists and songwriters includes Alicia Keys, Lady Gaga, P!nk, Shakira, Taylor Swift and Kanye West.
The videotaping or other video or audio recording of this production is strictly prohibited
Included Materials
Production Resources
Resource
LOGO PACK DIGITAL