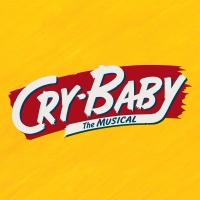 1950s Baltimore, the conservative squares face off against the leather-clad delinquents in this rockabilly musical based on John Waters' cult film.
Full Synopsis
Act One
It's 1954 in Baltimore. Mrs. Vernon Williams, a formidable social matron and president of Baltimore Women's Club, presides over the first annual Anti-Polio Picnic and Vaccination Carnival. Mrs. Vernon Williams' granddaughter, Allison, is the most beautiful girl at the park. The Squares, a squeaky clean group of teens led by Baldwin and his singing group, the Whiffles, burst into song ("The Anti-Polio Picnic").  The entrance of some Drapes, a gang of loners who love to terrorize the Squares, interrupts their jubilation. The Teardrops, three Drapes comprised of a pregnant Pepper, Wanda and Mona (aka Hatchet-Face), lead the charge to wreak havoc for the Squares. ("Watch You're A**"). In the midst of all of the chaos, Wade "Cry-Baby" Walker enters to join in the fun and get his polio vaccine. Allison is immediately drawn to this bad-boy orphan, which makes Mrs. Vernon Williams nervous ("I'm Infected").
Later that afternoon at the Maidenhead Country Club, Baldwin, the Whiffles and a reluctant Allison perform at Safety Awareness Day for the rest of the Squares ("Squeaky Clean"). Cry-Baby and the Teardrops interrupt the event. Cry-Baby has come to invite Allison to the Jukebox Jamboree at Turkey Point, but Mrs. Vernon Williams and Baldwin outright forbid it. Cry-Baby is devastated ("Nobody Gets Me").  Allison ponders over her Square life and decides to take action. She sets off the emergency alarm, sending the entire country club into panic and giving her the perfect opportunity to steal away to Turkey Point. ("Nobody Gets Me – Reprise").
That evening at Turkey Point, we find Dupree emceeing the "Jukebox Jamboree" while the Teardrops scare off Lenora, a girl who is obsessed with Cry-Baby on a highly neurotic level. Allison enters to the surprise of the Teardrops, who give her some advice on how to be a real bad girl ("A Whole Lot Worse").  Lenora jumps at the chance at the open mike from Dupree – singing of her devotion and love to Cry-Baby, as well as her general state of mental health ("Screw Loose"). After Lenora's demonstration of love, Dupree introduces Cry-Baby and the Teardrops to wrap up the night ("Baby, Baby, Baby, Baby (Baby, Baby) Baby").
Later that evening Cry-Baby takes Allison to a romantic, secluded section of Turkey Point, where they start to get to know each other a little better ("Girl, Can I Kiss You with Tongue?"). Cry-Baby runs off back to the pavilion to retrieve a special gift for his new special girl, a gold-plated guitar pick ("I'm Infected – Reprise").  A blazing fire set upon Turkey Point tragically interrupts their blossoming romance. Baldwin appears and immediately blames Cry-Baby for the arson, having him and all of the other Drapes arrested and dragged off to jail.
One by one, the Drapes enter the courthouse to face trial ("You Can't Beat the System").  The Judge doesn't budge on placing blame on the Drapes, and Cry-Baby and folks get sentenced to correctional facilities. Just before Cry-Baby is taken away, Lenora runs into the courthouse claiming she is carrying Cry-Baby's baby. Allison is shocked and devastated as Cry-Baby is dragged away, screaming.  
Act Two
The curtain rises on Mrs. Vernon Williams' picturesque brick home. Allison appears on the balcony with her hair in disarray and longing for Cry-Baby while, simultaneously, Cry-Baby and the other jailbirds sing of their misfortunes ("Misery, Agony, Helplessness, Hopelessness, Heartache and Woe"). Baldwin and the Whiffles interrupt Allison and inform her that they will be singing at a brand new theme park, Star-Spangled Funland for the Fourth of July. Allison feigns interest and agrees to sing with them.  Mrs. Vernon Williams finds Allison weeping and tries to cheer her up ("Misery, Agony, Helplessness, Hopelessness, Heartache and Woe – Reprise").
Baldwin and Lenora meet, shopping for wedding rings at a local jewelry store.  They find common ground with their mutual distaste of the other's love interest ("All in My Head").
On the prison farm, Dupree and the other prisoners get to work on the license plate presses ("Jailyard Jubilee"). Father Officer O'Brien keeps an eye on various wayward punks as Cry-Baby is shoved on stage. Dupree tries to calm the increasingly furious Cry-Baby after he hears Allison and Baldwin get engaged on the radio. Cry-Baby whisks the prisoners and guards into a frenzy ("A Little Upset"). In the midst of the chaos, Cry-Baby escapes the prison yard to find Allison.
Later that afternoon, Cry-Baby surprises Mrs. Vernon-Williams at her home while searching for Allison. Sirens are heard in the distance and Mrs. Vernon-Williams helps Cry-Baby escape. Baldwin, Allison and the Whiffles arrive to retrieve Allison's baton on the way to Star-Spangled Funland for the Fourth of July celebration. Mrs. Vernon-Williams overhears Baldwin bragging to the Whiffles about starting the fire and framing Cry-Baby. Unsuccessful at alerting Allison, Mrs. Vernon-Williams has a crisis of conscience and wrestles with the past incident ("I Did Something Wrong Once"). She vows to set her wrongdoing right.
Baldwin, Allison and the Whiffles take the stage at Star-Spangled Funland ("Thanks for the Nifty Country"). Judge Stone and Mrs. Vernon-Williams enter, followed quickly by a frantic Cry-Baby. Judge Stone has exonerated Cry-Baby and the Drapes and sentences the true culprit, Baldwin, to hard time. Before Baldwin is carted away to the correctional facility, he challenges Cry-Baby to a musical battle for Allison's heart ("This Amazing Offer"). Cry-Baby accepts and clearly wins both the battle and Allison's love ("Do That Again"). Lenora runs in with Cry-Baby's "baby," which is just a stuffed teddy bear, and declares that she now loves Baldwin. Mrs. Vernon-Williams offers Cry-Baby an awesome new guitar and invites him to be part of their family. ("Nothing Bad's Ever Gonna Happen Agan").
Show History
Inspiration
Cry-Baby, with music and lyrics by David Javerbaum and Adam Schlesinger and book by Mark O'Donnell and Thomas Meehan, is based on the 1990 cult classic of the same name written and directed by the iconic John Waters. Mark O'Donnell and Thomas Meehan previously adapted John Waters' 1988 film, Hairspray, into the 2002 Tony Award-winning Broadway blockbuster.
The movie and musical follows the story of Allison, a Baltimore teenager in the 1950s, who crosses the tracks and meets the leader of a rebellious group of teens, Wade "Cry-Baby" Walker.
Productions
Before heading to Broadway, Cry-Baby had its premiere production on November 18, 2007, at the La Jolla Playhouse in San Diego, California. It ran through December 16, 2007, before heading to New York City.
The Broadway production of Cry-Baby officially opened on April 24, 2008, at the Marquis Theatre. The musical was helmed by director, Mark Brokaw, and choreographed by Rob Ashford, with a cast of Broadway talent including Harriet Harris, Elizabeth Stanley, James Snyder and Carly Jibson. The Broadway production closed on June 22, 2008, after 45 previews and 68 performances.
In March of 2012, New Line Theatre in St. Louis, Missouri, worked with the original creative team and mounted a scaled-down, newly orchestrated version of the show.
In May of 2015, the scaled-down version was revised even further and produced at the Henegar Center, in Melbourne, Florida. Both the New Line Theatre and Henegar retooled productions have received fantastic critical and audience acclaim.
Cultural Influence
The Broadway cast of Cry-Baby performed on "The Today Show," and was introduced by John Waters himself at the 2008 Tony Award ceremony.
In August of 2015, it was announced that, seven years after its Broadway run, the show would receive a Cast Album. In anticipation of the Cast Album, original cast members, including Harriet Harris and Elizabeth Stanley, had a reunion concert at 54 Below in New York City on September 17, 2015.
Trivia
The 2008 Broadway Production was nominated for four Tony Awards: Best Musical, Best Book of a Musical, Best Original Score and Best Choreography.
Cry-Baby's composer and lyricist, David Javerbaum, has also won thirteen Emmy Awards, most notably for comedy writing on "The Daily Show with Jon Stewart."
Composer and lyricist, Adam Schlesinger, is also the bassist for the band, Fountain of Wayne.
In addition to Adam Schlesinger's Tony nominations for Cry-Baby, he has won both Emmy and Grammy Awards and has been nominated for a Golden Globe Award and an Academy Award.
Critical Reaction
"...the new John Waters musical is campy, cynical, totally insincere and fabulously well crafted. And funny. Madly, outrageously funny."
– The Wall Street Journal
Tony® Award
2008
-
Best Original Score,
Nominee
(David Javerbaum and Adam Schlesinger)
2008
-
Best Choreography,
Nominee
(Rob Ashford)
2008
-
Best Musical,
Nominee
(Cry-Baby)
2008
-
Best Book Of A Musical,
Nominee
(Mark O'Donnell and Thomas Meehan)
Drama Desk Award
2008
-
Outstanding Choreography,
Winner
(Rob Ashford)
Billing
Book by

Music and Lyrics by
Based on the Universal Pictures film written and directed by John Waters
Requirements
You must give the authors/creators billing credits, as specified in the Licence Agreement, in a conspicuous manner on the first page of credits in all programs and on house-boards, displays and in all other advertising announcements of any kind. You agree to supply to the Licensor full details of all such material for Licensor's approval prior to printing and distribution and supply two (2) copies of the program after printing.
Percentages listed indicate required type size in relation to title size.
You agree to bill the Play, the Authors and the underlying rights owners (on the title page),houseboards, displays and in all advertising and all paid publicity, in the following manner:
CRY-BABY 100%
Book by

Mark O'Donnell &

Thomas Meehan 50%

Songs by

David Javerbaum &

Adam Schlesinger 50%
Based on the Universal Pictures film written and directed by John Waters 25%
In addition, you agree that the following billing shall appear on the first page of credits in all programs for the Play:
Originally produced on Broadway by
Adam Epstein Allan S. Gordon Élan V. McAllister
and Brian Grazer
James P. MacGilvray Universal Pictures Stage Productions
Anne Caruso Adam S. Gordon Latitude Link The Pelican Group
in association with Philip Morgaman Andrew Farber/Richard Mishaan
World Premiere of Cry-Baby produced by La Jolla Playhouse
Christopher Ashley, Artistic Director & Steven Libman, Managing Director
SHORTENED BILLING:
In advertisements of 1/4 page size or less, or where only the title of the play, performance dates and venue are provided, the following "shortened billing" is permissible:
CRY-BABY
The videotaping or other video or audio recording of this production is strictly prohibited
Included Materials
Production Resources
Resource
FULL SCORE VOL. 1 OF 4
FULL SCORE VOL. 2 OF 4
FULL SCORE VOL. 3 OF 4
FULL SCORE VOL. 4 OF 4
HOW DOES THE SHOW GO ON-10/CS
HOW DOES THE SHOW GO ON?
KEYBOARDTEK
LOGO PACK DIGITAL
PRODUCTIONPRO-DIGITAL SCRIPT/SCORE
REFERENCE RECORDING
STAGE WRITE APPLICATION
TRANSPOSITIONS-ON-DEMAND
STANDARD ORCHESTRATION
| Instrumentation | Doubling |
| --- | --- |
| BASS | ACOUSTIC BASS , ELECTRIC BASS |
| DRUMS | DRUM KIT |
| GUITAR | ACOUSTIC GUITAR , BANJO , ELECTRIC GUITAR , GRETSCH GUITAR , LAP STEEL GUITAR , NYLON STRING GUITAR , TELECASTER , UKULELE |
| GUITAR 2 | ACOUSTIC GUITAR , BANJO , ELECTRIC GUITAR , STRATACASTER , TENOR BANJO , UKULELE |
| REED 1 | BARITONE SAXOPHONE , CLARINET , FLUTE , PICCOLO , TENOR SAXOPHONE |