What's New on the Website?
We're thrilled to welcome you to our brand new online home.  We've reviewed the many great features on MTI's website and are now able to offer you this customised Australasia website - with our very own region's specific information!
The site's official opening night world premiere is still a few months away, but in the meantime, we hope you enjoy our out-of-town tryout (Beta release) and invite you to send us feedback so we can continue to make enhancements.
Account Management
Licensing a musical is easier than it's ever been before:  
Web Profile - Participating in Our Theatrical Community
Take advantage of all the exciting interactive features on our new website by creating a Web Profile.  Your Web Profile makes you a member of our theatrical community where you can ask and answer questions, "Follow" shows, and participate in our Community Marketplace when it's up and running.
Sign up to our website in order to be advised of our latest show releases.  We are excited to be able to continue providing you with all the great service you have come to know from us together with long-time partner, Hal Leonard Australia.  Hal Leonard Australia will be working with us to satisfy your licensing & hire requests and all your perusal and hire material needs.

Login Help
If you are having trouble with your login, this may help. Please note that we are not currently able to offer MyMTI Account Management for Australasian clients.  Your account enquiries are welcome at enquiries@mtishows.com.au.
"Following" Future Releases for Email Updates

"Following" a show is the perfect way to find out when a Future Release title has been made available for licensing.  Simply click the follow button and you'll receive an email as soon as the title becomes available for licensing. This exciting feature is the new and improved take on the former Fast Track Notification. 
"Following" Already-Released Shows for Email Updates
You can also "Follow" any show that's already been released.  The "Follow" link is located in the bottom right corner of the synopsis box on the show page.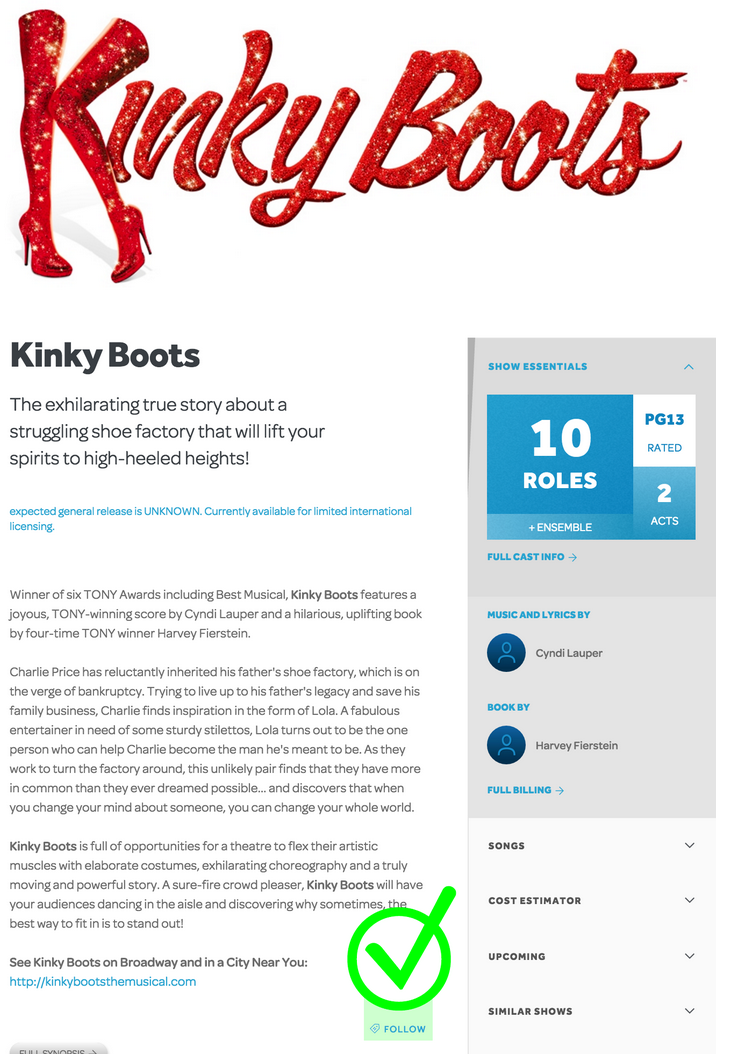 Searching for Shows

Our revamped search functions allow you to find an MTI musical based on a number of different criteria such as musical style, genre, setting, cast size, and much more.
Our show pages also have a new look and are organized to house all versions of that show on the same page. 
For example, the Annie show page features the full-length show, the 30-minute KIDS version and the 60-minute JR. version in addition to any available Concert Selections. 
Rates & Fees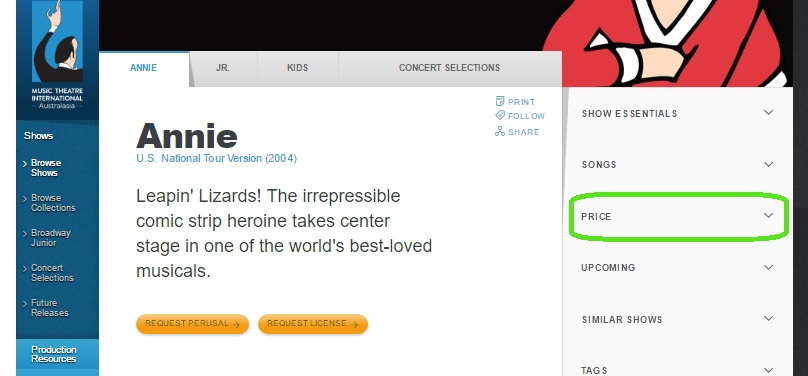 Now you can get a quick, indication of the costs involved for a specific MTI show before going through the full application process. Simply click on the PRICE tab on each show page (show above).

Please note: this feature is intended to be used as a reference tool only and the information provided here will be confirmed once you receive your license agreement and relative invoice(s).
Community Marketplace
*** An upcoming feature
Formerly known as "Community Rentals" on MTIShowSpace, our new "Community Marketplace" will be the area to post and view pictures of sets, props, and costumes to sell, rent, or trade with other users on the site!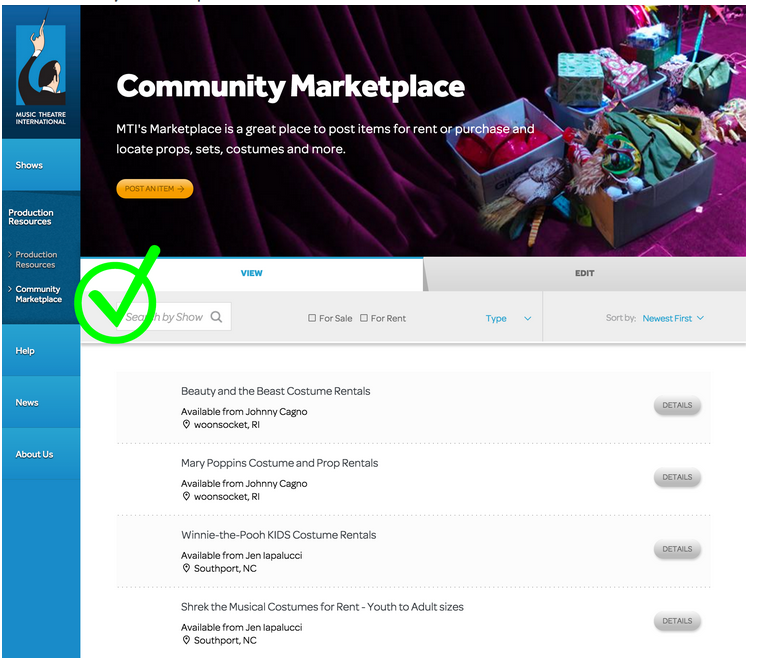 A New Home for Broadway Junior™

The home of MTI's 30 & 60 minute musicals for student performers (including ShowSupport, Audition Central and our Recognition/Publicity program) now lives here on this site and can be accessed directly from the homepage side menu
 
We hope you have fun looking around and exploring our new offering and we can't wait to work with you towards your next theatrical adventure!
Sincerely, 
Your team at MTI Australasia.